Coaches in the NHL are somewhat of an odd and very risk averse breed of people. It seems like nothing perturbs them more than the idea of playing a developing young player over a veteran, no matter what the difference in skill is. This stigma has followed Alain Vigneault to his new head coaching position, and Flyers fans have been vocal about it to say the least.
However, there are times when it's apparent that issues with a team run deeper than the coach's decisions. Often it's more a matter of roster quality, with the coach scrambling to make the most out of a less-than-desirable talent pool. It's hard to make filet mignon with expired beef, and I believe this is what AV ran into during this time with the Rangers.
The NHL Roster
Let's start by looking the construction of the Rangers' roster while AV was coaching. From the '13-'14 season to the '17-'18, the Rangers never had a single player attain a point-per-game pace. Looking at the forwards, his best players were Mats Zuccarello, Derek Stepan, Derick Brassard ('13-'16), JT Miller, and Nash for the '14-'15 season. Good players, but certainly not stars with the exception of Nash's monster season. Most of these players would likely slot into a second line role on a true cup contending team. The rest of his forwards consisted of mostly bottom-6 caliber role players that found chemistry with each other under AV.
The Rangers' best defensemen during the Vigneault era were Ryan McDonagh, Marc Staal before his 2017 concussion, and Dan Girardi before his skill level plummeted in the '15-'16 season. For the better part of his time in New York, AV had to operate with really only one efficient defensive pairing, that being whichever one had McDonagh. It's also worth noting that McDonagh had to line up next to Dan Girardi, who had become a defensive liability during the 2016 season. The rest of the Rangers defense consisted of, you guessed it, mostly irrelevant players.
In summation, the Rangers' roster as a whole simply wasn't that good. I always believed that Henrik Lundqvist consistently bailed out what would have otherwise been a slightly-above-average team.
So if the team wasn't that good to begin with, he had no excuse to call up younger players to take the spots of slower veterans, right? Well, ya see… the thing is… there wasn't much there either.
The Rangers' Farm System and Other Prospects (Or Lack Thereof)
AV had the awful misfortune of coaching a Rangers team that had zero 1st-round picks from 2013-2016. Also had a whopping two 2nd-round picks. Let's read that again. From 2013-2016. ZERO first-round picks, two 2nd round picks. First of all…
Anywho, it's pretty tough to replace crappy vets with NHL prospects when you don't have many NHL-ready prospects. It's also hard to accrue those when you don't pick any higher than the 3rd round for the better part of 4 years. As I'm sure you can imagine, the players they drafted over those 4 years weren't exactly successful. Only five of their draftees played at least one game for the Rangers, two of which were goalies. The other 3 were Pavel Buchnevich, Anthony Duclair, and Tim Gettinger.
The biggest gripe I found from Rangers fans is also something that Flyers fans are terrified of. This being the idea of bringing in Dan Girardi to play top-pair minutes in favor of younger players. While Girardi shouldn't be getting top-pair minutes anywhere, let's keep in mind that the Rangers' defensive prospects were practically non-existent. Through that 2013-2016 stretch, seven defenseman were drafted, none of which played a single game for the team. This essentially forces Vigneault to play who he's got, and what he had were very 'meh' defensemen.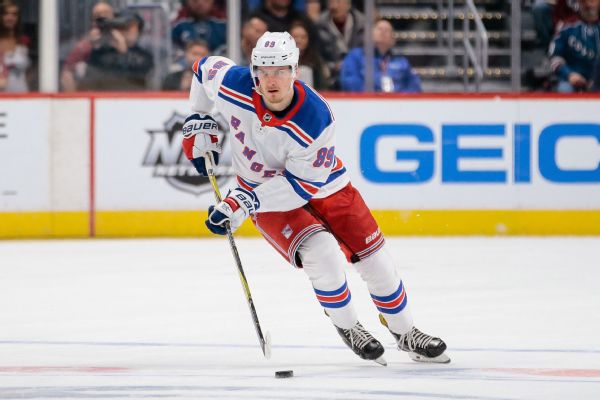 The Rangers did have a handful of respectable prospects. Brady Skjei, JT Miller, Pavel Buchnevich, and Anthony Duclair rounded out their better names in the farm system. Skjei now has a solid roster spot with the team. JT Miller was traded to area choke artists, the Tampa Bay Lightning. Duclair has since been passed around by a few other teams. This leaves Buchnevich, who is settling into his role on the team. Buchnevich has been propped up as the shining example of who AV has been under-utilizing, and has been considered a player ready for a breakout season. In his first 2 seasons before AV was fired, Buchnevich put up 20 points in 41 games (0.49 PPG) and 43 points in 74 games (0.58 PPG) respectively. Surely after Big Bad AV was fired and Buchnevich got more ice time his numbers would improve, right? The following season, Buchnevich put up 38 points in 64 games (0.59 PPG).

You know, maybe he just isn't that good to begin with. Rangers fans also complained about Oscar Lindberg not seeing ice time… you might ask, "Who the hell is that?" I asked the same thing and I'll save you the trouble of looking him up. He isn't that good either.
AV got a bad reputation for playing crappy vets over young players while he was with the Rangers. But can we really blame him for not having young players to replace them with? Generally, I think the best way to ensure that a coach doesn't do this is to stock the farm system with good young players and get rid of the crappy vets. Sounds a lot like something the Flyers have already started to do.
-Brian Adams (@Wx_Adams)
Photo Creds: NHL.com, Forbes, ESPN