Oxford Languages informally defines a "turkey" as "something that is extremely or completely unsuccessful." While this definition is typically reserved for plays, movies, and other more traditional forms of entertainment, the "extremely or completely unsuccessful" sounds a bit too familiar to Flyers fans as we simultaneously laugh and cry about some of our misfortunes. Here's a look back at some of the biggest turkeys this team has seen hit the ice (or in some cases, not even making it that far).
Bob Currier
It's not a good sign when someone's hockeyDB page doesn't even have a picture of them. Bob Currier was taken 6th overall in the 1969 NHL Amateur Draft, and that's about where his story starts and ends. Seriously, this dude never played a single game for the Flyers. He went on to post some very pedestrian numbers for the Quebec Aces of the AHL. Fortunately this draft dud was quickly forgotten as the Flyers' next pick in this draft was some dude named Bobby Clarke. You might've heard of him.
Larry Wright
We go back to the 1971 NHL Draft for this next one, where Larry Wright was taken 8th overall. Wright would go on to have two stints with the Flyers, playing with the team from 1971-1973 and again in the 1975-1976 season. Wright never really put it together at the NHL level despite having some good years with the Regina Pats of the WCHL (currently the WHL) and the Richmond Robins of the AHL. In 38 total games with the Flyers, Wright put up one goal and two assists. The most redeeming part of Larry Wright's Flyers career was being packaged in a trade that brought Reggie Leach to the Flyers in 1974.
Steve Smith
Smith was drafted 16th overall in the 1981 NHL Entry Draft. A modest AHL career would then follow, including winning the Calder Cup with the Hershey Bears in 1987-88. His Flyers career would top out with one assist in 15 games with the club. He would then sign with and play 3 games for the Buffalo Sabres before putting a wrap on his NHL career.
Darren Rumble
With a name this awesome you have to be successful, right?! Rumble was yet another AHL success story after being selected 20th overall in the 1987 NHL Draft. He played three games for the Flyers in his draft +4 year, the 1990-91 season before being plucked away by the Ottawa Senators in the 1992 NHL Expansion Draft. Rumble would then return to the Flyers via free agency in 1995. While being very effective with the Phantoms in 1996-97 including his Eddie Shore award for best AHL defenseman, he never made a big impact with the Flyers. He ultimately posted 1 goal over 18 total games with the Flyers.
Claude Boivin
Another year, another disappointing first rounder. The 1988 NHL Entry Draft saw the Flyers take Boivin at 14th overall. An ACL tear would dramatically change the course of his career and cause him to never really reach his potential as a mean power forward who could also score. He was definitely a mean power forward, the points just never really came. Over 114 games with the Flyers, Boivin posted 11 goals and 18 assists good for 29 points. He was eventually traded to the Senators, played two more seasons for Ottawa, and then spent the rest of his career in the minors. The pre-Lindros era of the late 80s and early 90s was… certainly something.
Maxime Ouellet
The Flyers seemingly had found their stud goaltender when they took Ouellet at 22nd overall in the 1999 NHL Draft following several runs of success in juniors. He would start one game and enter another as a relief appearance in 2000-01, logging all of 76 minutes with the Flyers before being returned to juniors. He then found some moderate success with the Phantoms before being packaged in a trade for Adam Oates. Some brief stints with the Capitals and Canucks followed before finishing his career in the minors. Yet another name in the list of unsuccessful Flyers goaltenders.
Jiri Dopita
Ah yes, the "Czech Mark Messier" as he was known for years due to his success in European Leagues. Originally drafted in 1992 by the Bruins, he never made his way overseas letting the Bruins' rights expire. He would then be re-drafted by the New York Islanders in 1998. Dopita had no interest in coming to New York either, so his rights were traded to the Florida Panthers the following year. Come 2001, his rights were traded to the Flyers who then made quite the effort to bring him overseas, especially with the help of his former teammate Roman Cechmanek. Ultimately, the hype was overblown for someone once considered the best player not in the NHL by many outlets. A few pretty goals came here and there but the offensive potential was never fully realized (27pts in 52 games with 11 goals), leading to Dopita being traded to Edmonton for a third round pick in 2002. Somehow, he was worse in Edmonton, and the rest is history.
Nikolay Zherdev
The offensively-gifted Zherdev was drafted 4th overall in 2003 by the Columbus Blue Jackets. Some exciting seasons followed with Zherdev exceeding the 20-goal mark twice with Columbus (27G in '05-06 and 26G in '07-08). This did, however, come amidst some squabbling with coaching staff as well as contract disputes and multiple threats to remain in Russia. He was traded to the Rangers in 2008 where he enjoyed another reasonably productive season, posting 23G and 58 points in 82 games. Yet another contract dispute led to the Rangers letting him go after one season. Zherdev returned to Russia for one season before signing a one year, $2 million contract with the Flyers. 56 games, 16 goals, and a number of work ethic issues leading to more squabbling with Peter Laviolette would see the Flyers let Zherdev walk back to Russia, where he spent the remainder of his career.
Ilya Bryzgalov
Mr. Universe himself is next! Bryz found himself on the Flyers' radar after enjoying multiple runs of success with Anaheim and Phoenix, including his finish as a runner-up for the Vezina Trophy in '09-10 as well as a top-5 finisher for the Hart Trophy. Ed Snider demanded an upgrade between the pipes after the '10-11 season which saw Sergei Bobrovsky, Brian Boucher, and a late playoff appearance by Michael Leighton (whom I still haven't forgiven for 2010) tandem their way into another disappointing playoff exit. The Flyers signed Bryz to a 9 year, $51 million contract that offseason. The '11-12 season had a number of ups and downs for Bryz, including a 9-8 loss to the Winnipeg Jets, but also a stretch in which Bryz set the current record for longest shutout streak by a Flyers goaltender. Less than stellar goaltending would usher the Flyers out of the playoffs in 2012, following the infamous 2012 Flyers-Pens series. The lockout-shortened '12-13 season would see more mediocre play from Bryz, and ultimately lead the cash-strapped Flyers to use a compliance buyout two years into a 9-year contract. The Flyers will still be paying Mr. Universe until 2027, so he probably wins in the end.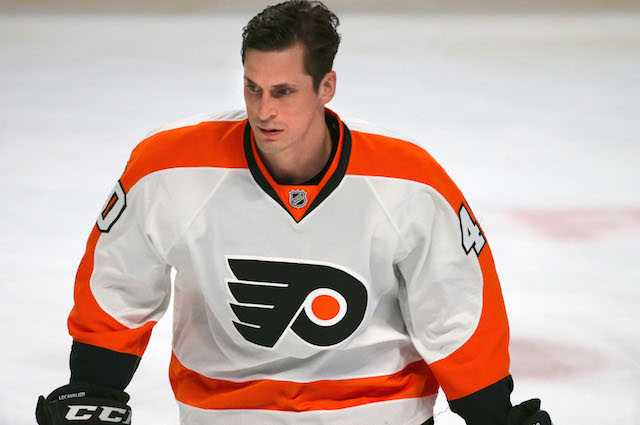 Vincent Lecavalier
Lecavalier, along with teammate Martin St. Louis, was one of my favorite non-Flyers while growing up. The two generational talents were a pleasure to watch in Tampa especially during their Stanley Cup Champion season in '03-04. Salary cap complications lead to Tampa using a compliance buyout on Lecavalier in 2013, after which he would sign with the Flyers for 5 years at $22.5 million. His production promptly dropped off upon arriving in Philadelphia, posting 37pts in 69 games during '13-14 and 20 pts in 57 games during '14-15. The latter season saw Lecavalier healthy scratched for the first time in his career as he, as well as the rest of the team got off to a poor start. Him and Craig Berube had different ideas on how to improve his play which led to additional scratches. Lecavalier saw similar treatment to start the '15-16 season before being traded along with noted Stanley Cup Champion Luke Schenn (*shudders*) in a cap-dump trade to the LA Kings. Lecavalier promised to retire following the season as part of the deal.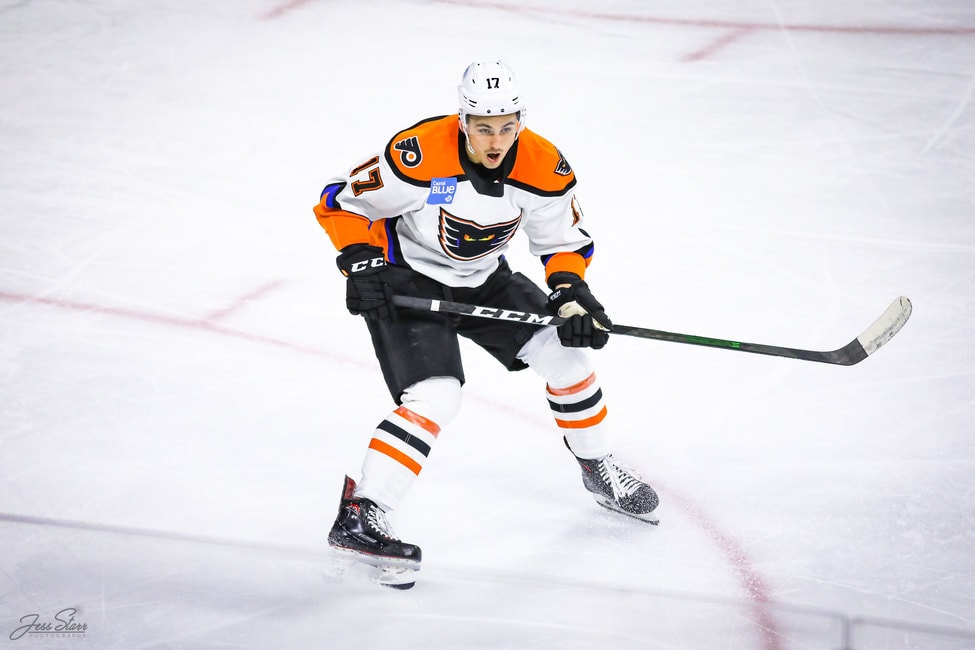 German Rubtsov
Some might say it's a bit early to label Rubtsov a "turkey" or a "bust." I am not one of those people. Ron Hextall inexplicably drafted Rubtsov 22nd overall in the 2016 Draft, infamously known as the "passed on DeBrincat twice" draft. We can apply hindsight to every draft in NHL history, so I won't delve too much into that subject. What I will delve into, however, is that Rubtsov is now in his draft+6 year, has played all of 4 games with the Flyers, and produced nothing. Injuries have played their part in his development, but underwhelming results even at the AHL level cast plenty of uncertainty over the future of this former 1st round pick.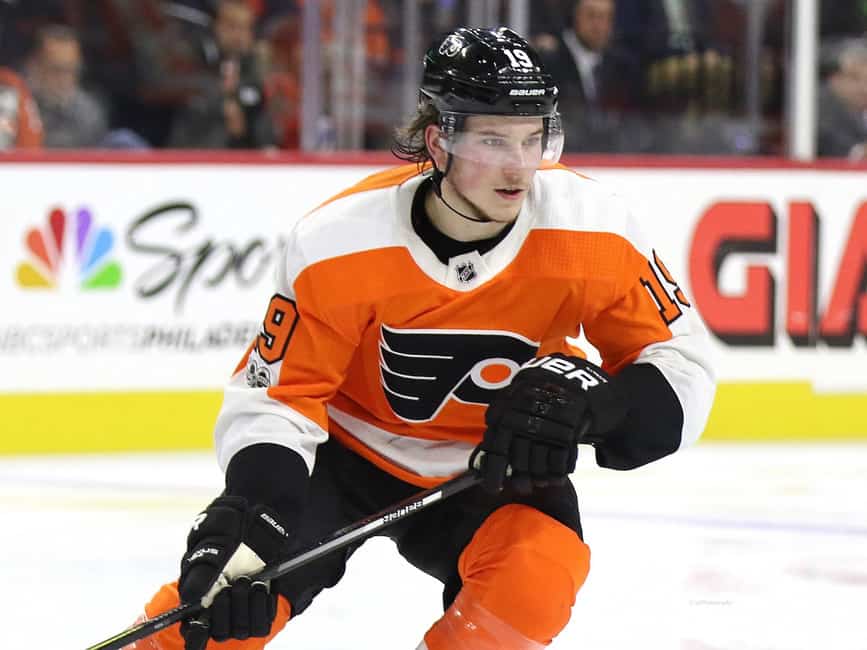 Nolan Patrick
That's Nashville Predators Legend Nolan Patrick to you! Once again, some might say this is an early declaration of a Flyers Turkey. And once again, I'm not one of those people who is overly confident in the Flyers' closest equivalent of Nail Yakupov. Patrick was drafted 2nd overall after the Flyers were fortuitously flung upward in the draft order via the lottery. The hope was for Patrick to solve the Flyers glaring hole at 2C behind Giroux and Couturier. Patrick's first two seasons were inconsistent at best with the Flyers. The point totals weren't all that bad for the average rookie in the NHL at 30pts in 73 games during his rookie campaign, and 31pts in 72 games during the '18-19 season. A battle with migraines would sideline Patrick for all of the '19-20 season. Naturally, the '20-21 season was built up as his return to form aptly known as the "Nolan Patrick Revenge Tour" by many. The revenge tour was more of a relaxed stroll through the neighborhood, in which Patrick looked either completely disinterested or completely invisible on most nights, and was reflected on the scoresheet with 9pts in 52 games. Patrick was then shipped out with Phil Myers during the 2021 offseason in the trade that saw Ryan Ellis come to Philadelphia.
That's a wrap from me on some of the biggest turkeys to wear a Flyers jersey. Who are some I may have missed?
-Brian Adams @BadamsProblems
Photo Creds: Largely from nhl.com/flyers/alumni index, Yahoo Sports (Bryz), CBS Sports (Lecavalier), The Hockey Writers (Rubtsov and Patrick), and Wikipedia for the Turkey/Bob Currier image